MY JOURNALING SETUP
* since 2015, i've been experimenting with using a variety of journals. i've tried moleskine, i've tried leuchtturm1917, and i've even tried the higher-end journals like archer & olive and notebook therapy. i've gotten close to what i wanted with the hobonichi techo, but the dated pages were intimidating and i needed something more open
* i've tried this type of journal before, and it initially didn't work out. but now i've found journaling peace with this notebook system: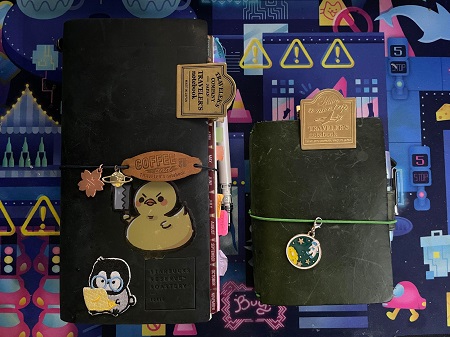 * the traveler's notebook system has the unique ability unlike other notebooks where it is actually a leather cover that can hold multiple notebooks in one. as an autistic person who likes to compartmentalize everything, it's perfect for me. plus the lower page count of these notebooks (most being 64 pages each) allows me to finish notebooks easier, which is a rare feat for me, and encourages me to keep using the system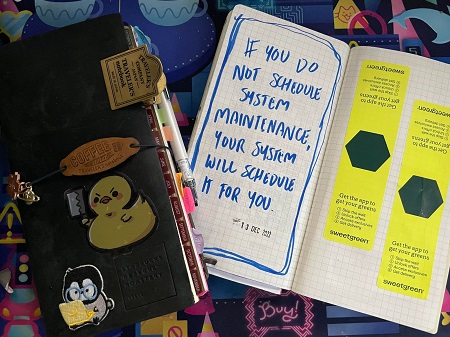 * the standard-sized traveler's notebook is my daily driver. currently my regular setup for it is this:
2023 monthly insert: for future logging. i don't like to set up monthly pages, so i bought one that traveler's company sells with months set up for you. to simply explain, if i have an event coming up next month or beyond, i jot it down here for future reference.
bullet journal: it is a regular grid insert, and i use the bullet journal method to plan each day. i keep it very simple unlike the artsy bullet journalers on instagram and i just stick to the basic method the creator originally made. i basically log each day and do memory keeping by writing short notes on what happened that day. i also keep other stuff here like plans/outlines for my website, cosplay ideas, recipes, etc
personal journal: i bought a 160-page grid insert from paperpenguinco. it's made of tomoe river paper, which is one of the nicest fountain pen friendly papers on the market. this insert is more kept like a typical journal, where i write emotional thoughts/whatever i want to write about. i also junk journal in this journal as well, which means i keep stuff like receipts, maps, pamphlets, and other ephemera i come across. usually, this insert is too chunky to constantly keep in my traveler's notebook cover, so i keep it separate from the cover. but i plan on getting a second cover to keep it in.
novel journal: another regular grid insert from traveler's company. i'm currently working on my original novel titled faceclaim. basically it's a bullet journal but specifically for working on this novel. i keep writing session notes, word count trackers, worldbuilding/character notes, etc etc - basically anything related to faceclaim goes into this notebook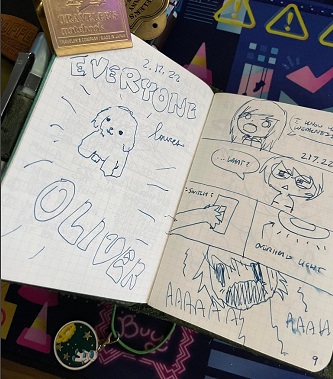 * my passport-sized traveler's notebook was a gift from my fiancee, and she bought it from galen leather. this acts as not only my wallet, but also an observation journal
wallet insert: self-explanatory.
observational journal: if you played the video game night in the woods, you know how mae keeps a journal where they mainly doodle observations? yeah, i basically journal like that when i'm out and about. because i don't take my regular traveler's notebook everywhere with me, this is also where i keep things like packing lists, shopping lists, manga i need to collect, etc.